More than 300 British Olympians and Paralympians have called on the Government put climate change at the heart of the COVID-19 recovery.
In an open letter to the Prime Minister, GB rower and friend of BASIS Melissa Wilson urges a "truly green approach" in pursuit of "the ultimate legacy: a safe, healthy Earth for all".
Hundreds of our finest Olympians and Paralympians – including Sir Steve Redgrave, Paula Radcliffe, Sir Mo Farah, Hannah Cockroft MBE, Dame Mary Peters, Rebecca Adlington OBE and Tessa Sanderson CBE – have signed the letter, which is backed by Champions for the Earth.
The letter is unique – comfortably the most significant collective intervention on climate change from GB sports stars – which BASIS strongly welcomes.
Explaining the purpose of the letter, Melissa said: "this is a once-in-a-lifetime opportunity to safeguard the environment for younger generations… I feel we've got a relatively short window as a society to turn climate change around"
BASIS Communications Director, Dom Goggins, called the letter's publication "a huge moment. Our biggest sports stars using their platform to take a stand on climate change is something that can't be ignored. Their call is clear – the UK needs to lead. Sport can play its part and lead by example. That's the purpose of the BASIS Build Back Better consultation, and we're here to help every governing body, club and venue in our country become environmentally sustainable.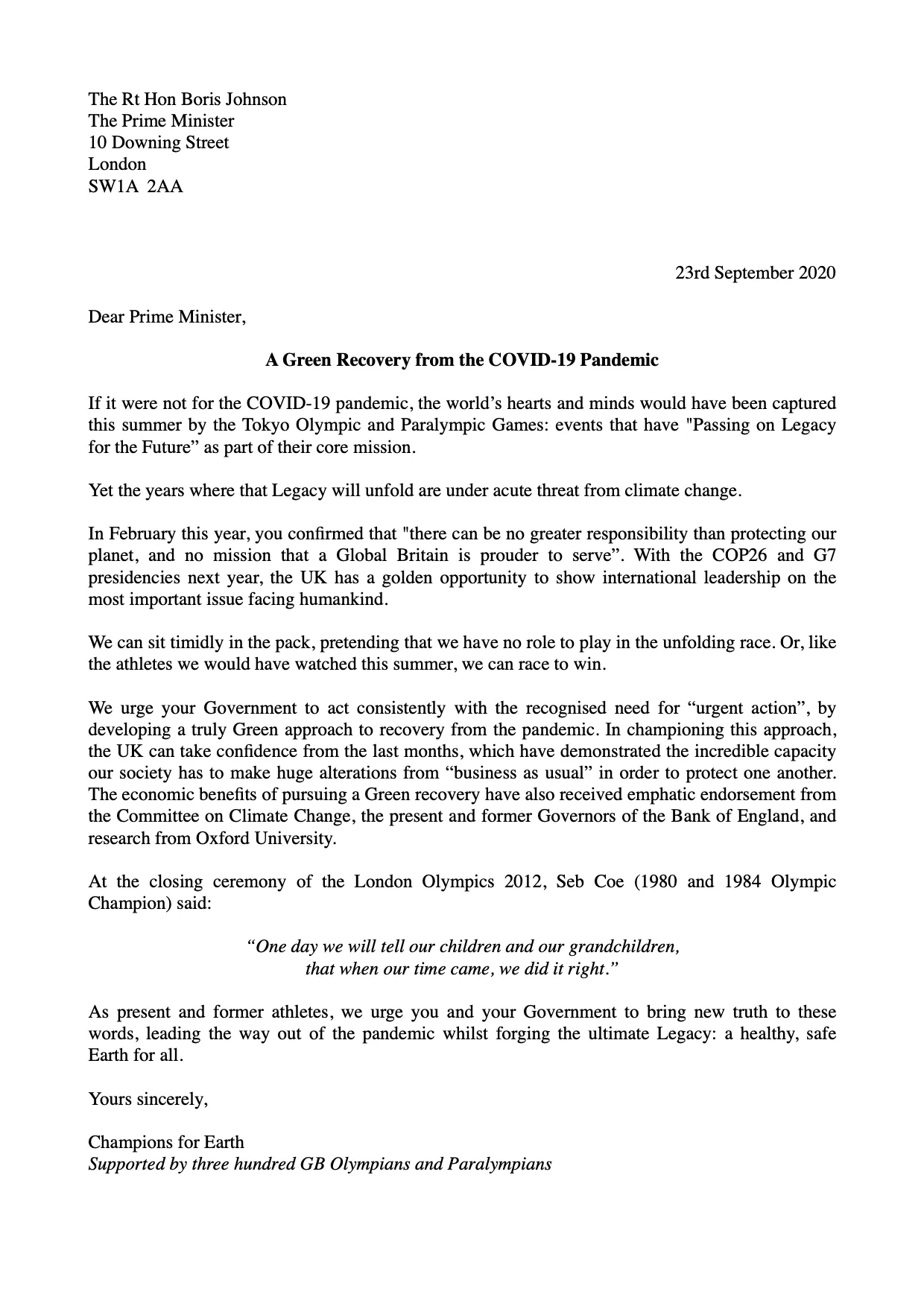 Five-time Olympic champion Steve Redgrave: "As an athlete you need a healthy environment to perform at the highest level. It's vital Britain's kids grow up with clean air, access to green spaces and healthy diets. The UK has always been a leader, and we need the country to lead on delivering a safe environment to nurture stars of the future."
Double Olympic Champion Rebecca Adlington OBE: "Swimming has been my passion since I was a kid, but we are increasingly seeing our global waters and marine environments polluted and exploited. Just as in 2012, UK leadership can deliver a successful global UN climate summit that can lay a legacy for future generations. This isn't going away and we need to act now to ensure the future."
Double Olympic Champion Alistair Brownlee MBE: "As a triathlete, I've been training for intense heat at the 2021 Tokyo Olympics: I know how hard it is to perform in blistering conditions. I love to compete, but I also want my sport to be safe for generations to come – that's why I want the government to take a lead on tackling climate change"
Paula Radcliffe MBE, four-time Olympian and Marathon World Record Holder 2003-2019: "There is no safe level of air pollution. We all have to do more – and the government needs to lead. The COP26 summit in 2021 will be the UK's environment Olympics – but it's a marathon not a sprint, and the government needs to ensure it's prepared and has the right policies in place to ensure the UK is a climate leader."
London 2012 Olympic Champion Etienne Stott: "Our dependence on fossil fuels is driving global warming and destroying the planet we live on. As fires rage in the Amazon and the Arctic, we have to take this moment to change course. Sport can't ignore this."
Full list of signatories:
Champions For Earth
Melissa Wilson, World Championships 2017, 2018 & 2019 (Rowing)
Etienne Stott MBE (Olympic Champion), London 2012 (Canoeing); Co-founder of Champions for Earth
Dave Hampton, World Championships 1982 (Rowing); Co-founder of Champions for Earth
Katie Rood, New Zealand International and UK Citizen (Football)
Supported by over 300 GB Olympians and Paralympians
Sir Steve Redgrave (Five-time Olympic Champion), Los Angeles 1984, Seoul 1988, Barcelona 1992, Atlanta 1996, Sydney 2000 (Rowing)
Hannah Cockroft MBE DL (Five-time Paralympic Champion), London 2012 & Rio 2016 (Athletics, T34 100m, 200m, 400m, 800m)
Sir Mo Farah (Four-time Olympic Champion), London 2012 & Rio 2016 (Athletics, 5,000m & 10,000m )
Lady Mary Peters LG CH DBE DStJ (Olympic Champion), Tokyo 1964, Mexico 1968 & Munich 1972 (Pentathlon)
Tessa Sanderson CBE (Olympic Champion), Montreal 1976, Moscow 1980, Los Angeles 1984, Seoul 1988, Barcelona 1992 & Atlanta 1996 (Athletics, Javelin Throw)
Rebecca Adlington OBE (Double Olympic Champion), Beijing 2008 & London 2012 (Swimming)
Paula Radcliffe MBE, Atlanta 1996, Sydney 2000, Athens 2004 & Beijing 2008 (Athletics, Marathon)
Helen Glover MBE (Double Olympic Champion), London 2012 & Rio 2016 (Rowing)
Iain Bryden Percy OBE (Double Olympic Champion), Sydney 2000, Athens 2004, Beijing 2008 & London 2012 (Sailing)
Alistair Brownlee MBE (Double Olympic Champion), London 2012 & Rio 2016 (Triathlon)
Jonny Brownlee, London 2012 & Rio 2016 (Triathlon)
Christine Ohuruogu MBE (Olympic Champion), Beijing 2008, London 2012 & Rio 2016 (Athletics, 400m & 4x400m Relay)
William Fox-Pitt MBE, Atlanta 1996, Sydney 2000, Athens 2004, Beijing 2008, London 2012 & Rio 2016 (Equestrianism)
Jason Gardener MBE (Olympic Champion, President of UK Athletics), Sydney 2000 & Athens 2004 (Athletics, 4x100m Relay)
Mark Lewis-Francis MBE (Olympic Champion), Athens 2004 (Athletics, 4x100m Relay)
Professor Greg Whyte OBE PhD, Barcelona 1992 & Atlanta 1996 (Modern Pentathlon) Annamarie Phelps CBE (Vice-Chair of the British Olympic Association), Atlanta 1996 (Rowing)
Timothy Baillie MBE (Olympic Champion), London 2012 (Canoe Slalom)
Saskia Clark MBE (Olympic Champion), London 2012 & Rio 2016 (Sailing)
Kat Copeland MBE (Olympic Champion), London 2012 & Rio 2016 (Rowing)
Martin Cross (Olympic Champion), Moscow 1980, Los Angeles 1984, Seoul 1988 & Barcelona 1992 (Rowing)
Alex Danson-Bennett MBE (Olympic Champion), Beijing 2008, London 2012, Rio 2016 (Hockey)
Lynn Davies CBE (Olympic Champion), Tokyo 1964, Mexico 1968 & Munich 1972 (Long Jump)
Richard Dodds (Olympic Champion), Los Angeles 1984 & Seoul 1988 (Hockey)
Gillian Donaldson MBE (née Sheen, Olympic Champion), Helsinki 1952, Melbourne 1956 & Rome 1960 (Fencing)
Simon Dennis MBE (Olympic Champion), Sydney 2000 (Rowing)
James Fox MBE (Paralympic Champion), Rio 2016 (Rowing)
Judy Grinham MBE (Olympic Champion), Melbourne 1956 (Swimming)
Garry Herbert MBE (Olympic Champion), Barcelona 1992 (Rowing)
Dr David Hemery CBE (Olympic Champion), Mexico 1968 (Athletics, 400m Hurdles)
Constantine Louloudis MBE (Olympic Champion), London 2012, Rio 2016 (Rowing)
Helena Lucas MBE (Paralympic Champion), Beijing 2008, London 2012 & Rio 2016 (Sailing)
Hannah Mills MBE (Olympic Champion), London 2012 & Rio 2016 (Sailing)
George Nash MBE (Olympic Champion), London 2012 & Rio 2016 (Rowing)
Veryan Pappin (Olympic Champion), Los Angeles 1984 & Seoul 1988 (Hockey)
Tom Ransley MBE (Olympic Champion), London 2012 & Rio 2016 (Rowing)
Susie Rodgers MBE (Paralympic Champion), Rio 2016 (Swimming)
Lauren Rowles MBE (Paralympic Champion), Rio 2016 (Rowing)
Mohamed Sbihi MBE (Olympic Champion), London 2012 & Rio 2016 (Rowing)
Greg Searle MBE (Olympic Champion), Barcelona 1992, Atlanta 1996, Sydney 2000 & London 2012 (Rowing)
Jonny Searle MBE (Olympic Champion), Barcelona 1992 & Atlanta 1996 (Rowing)
Callum Skinner (Olympic Champion), Rio 2016 (Track Cycling)
David Smith MBE (Paralympic Champion), London 2012 (Rowing)
Andrew Triggs Hodge OBE (Olympic Champion), Athens 2004, Beijing 2008, London 2012, Rio 2016 (Rowing)
Anna Watkins MBE PhD (Olympic Champion), Beijing 2008 & London 2012 (Rowing)
Laurence Whiteley MBE (Paralympic Champion), Rio 2016 (Rowing)
Dr Mike Bull OBE, Mexico 1968 & Munich 1972 (Athletics, Pole Vault)
Kathryn Cook MBE (née Smallwood), Moscow 1980 & Los Angeles 1984 (Athletics, 4x100m Relay & 400m)
Sir Lawrence Clarke, 7th Baronet, London 2012 & Rio 2016, (110m Hurdles)
Pippa Funnell MBE, Sydney 2000, Athens 2004 & Rio 2016 (Equestrian Eventing)
Frances Houghton MBE, Sydney 2000, Athens 2004, Beijing 2008, London 2012 & Rio 2016 (Rowing)
Anne J.F. Loriston-Clarke MBE, Munich 1972, Montreal 1976, Los Angeles 1984 & Seoul 1988 (Equestrian Dressage)
Rosemary Mayglothling (née Clugston), OBE, Moscow 1980 (Rowing)
Richard Nerurkar MBE, Barcelona 1992 & Atlanta 1996 (10,000m & Marathon)
Antony Nunn OBE, Helsinki 1952 (Hockey)
Violet McBride MBE, Seoul 1988 (Hockey, Vice Captain)
Alison Ramsay MBE, Barcelona 1992 (Hockey)
Michael Read MBE, Rome 1960 (Swimming)
Terence Rosslyn Smith MBE, Rome 1960 (Rowing)
Bill Tancred MBE, Mexico 1968 & Munich 1972 (Discus)
Sarah Winckless MBE, Sydney 2000, Athens 2004 & Beijing 2008 (Rowing)
Brian Adams, Montreal 1976 (20km Race Walk)
Shirley Addison (née Webb), Athens 2004 (Athletics, Hammer Throwing)
Mark Agar, Innsbruck 1976 (Bobsleigh)
Chemmy Alcott, Salt Lake 2002, Turin 2006, Vancouver 2010 & Sochi 2014 (Alpine Skiing)
Dina Asher-Smith, Rio 2016 (Athletics, 200m & 4x100m Relay)
Leigh Atkinson, Moscow 1980 (Swimming)
Laura Backhouse (née Blakeman), Sydney 2000 (Canoe Slalom)
Vitaliy Baranov, Salt Lake City 2002 (Ice Dancing)
Ian Barker, Sydney 2000 (Sailing)
Julia Barkley, Mexico 1968 (Fencing)
Bill Barry, Tokyo 1964 (Rowing)
Lynne Beattie, London 2012 (Volleyball, Captain)
Jack Beaumont, Rio 2016 (Rowing)
Peter Beaumont, Seoul 1988 (Rowing)
Lesley Beck, Sarajevo 1984 & Calgary 1988 (Alpine Skiing)
Jacquie Beltrao, Los Angeles 1984 (Rhythmic Gymnastics)
Karen Bennett, Rio 2016 (Rowing)
Anna Bentley-Ward, London 2012 (Fencing)
John Bettinson, Mexico 1968 (Cycling, Road Race)
Georgina Bevan (née Singleton), Athens 2004 (Judo)
Dr Cath Bishop, Atlanta 1996, Sydney 2000 & Athens 2004 (Rowing)
Diana Bishop (née Wilkinson), Rome 1960 & Tokyo 1964 (Swimming)
Maria Blower, Los Angeles 1984 & Seoul 1988 (Road Cycling)
Dave Bodington, Grenoble 1968 (Ice Speed Skating)
Stephen Brialey, Calgary 1988 (Luge)
Caroline Brittan, Sarajevo 1984 (Cross-country Skiing)
Michaela Breeze, Athens 2004 & Beijing 2008 (Weightlifting)
Paul Brew, Seoul 1988 (Swimming)
Dr Kristan Bromley, Salt Lake City 2002, Torino 2006, Vancouver 2010, Sochi 2014 (Skeleton)
Katie Brownlow, Barcelona 1992 (Rowing)
Nicholas Buckfield, Atlanta 1996 & Athens 2004 (Pole Vault)
Abdul Buhari, London 2012 (Discus Throw)
Colin Campbell, Mexico 1968, Munich 1972 & Innsbruck 1976 (Athletics, 400m & 600m; Bobsleigh)
Rachel Cawthorn, London 2012 & Rio 2016 (Canoe Sprint)
James Clark, Munich 1972, Montreal 1976, Moscow 1980 & Los Angeles 1984 (Rowing)
Lin Clark, Montreal 1976 & Moscow 1980 (Rowing)
James Clarke, Beijing 2008 (Rowing)
David Clements, Squaw Valley California 1960 (Figure Skating)
Iain Clough, Barcelona 1992 (Canoe Slalom)
Lou Collins (née Stuart), Seoul 1988 (Athletics)
Stef Collins, London 2012 (Basketball)
Garry Cook, Los Angeles 1984 (Athletics, 4x400m Relay)
Kristina (Tina) Cook, Beijing 2008 & London 2012 (Equestrian Eventing)
Arnold Cooke, Tokyo 1964 (Rowing)
Mark Covell, Sydney 2000 (Sailing)
Ernie Crutchlow, Munich 1972 (Cycling)
Steve Cummings, Athens 2004, Beijing 2008 & Rio 2016 (Cycling, Track & Road)
Johnny Davis, Seoul 1988 & Barcelona 1992 (Fencing)
Lisa Dobriskey, Beijing 2008 & London 2012 (Athletics, 1500m)
Nathan Douglas, Athens 2004 & Beijing 2008 (Triple Jump)
Chris Dyason, Lake Placid 1980 (Luge)
Catherine Earley (née Swinnerton), Los Angeles 1984 (Cycling)
Neil Eckersley, Los Angeles 1984 (Judo)
Jess Eddie, Beijing 2008, London 2012 & Rio 2016 (Rowing)
Martin Edwards, Munich 1972 (Swimming)
Pauline Edwards, Munich 1972 & Seoul 1988 (Archery)
Susan Egelstaff, London 2012 (Badmington)
Tony Ekins, Mexico 1968 & Munich 1972 (Hockey)
Jo Ellis, Beijing 2008 (Hockey)
Hannah England, London 2012 (Athletics, 1500m)
Annabel Eyres, Barcelona 1992 (Rowing)
Stewart Farquharson, Rome 1960 and Tokyo 1964 (Rowing)
Tom Farrell, Melbourne 1956 & Rome 1960 (Athletics, 400m hurdles & 800 metres)
Jamie Fearn, Albertville 1992 & Lillehammer 1994 (Short Track Speed Skating)
Heather Fell, Beijing 2008 (Modern Pentathlon)
Heather Fisher, Rio 2016 (Rugby Sevens)
Mark Forsythe, Seoul 1988 & Barcelona 1992 (Athletics, Long Jump)
David Florence, Beijing 2008, London 2012, & Rio 2016 (Canoe Slalom)
James Foad, London 2012 (Rowing)
Naomi Folkard, Athens 2004, Beijing 2008, London 2012 & Rio 2016 (Archery)
Fiona Freckleton, Barcelona 1992 (Rowing)
Kate French, Rio 2016 (Modern Pentathlon)
Bridget Gait (née Buckley), Moscow 1980 (Rowing)
Rebecca Gallantree, Beijing 2008, London 2012 & Rio 2016 (Diving)
John Garrett, Los Angeles 1984, Seoul 1988 & Barcelona 1992 (Rowing)
Zoe Gillings-Brier, Turin 2006, Vancouver 2010, Sochi 2014 & PyeongChang 2018 (Snowboarding)
Kirsty Gilmour, Rio 2016 (Badminton)
Susan Goldsworthy, Montreal 1976 (Swimming)
Hester Goodsell, Beijing 2008 (Rowing)
Jon Goodwin, Munich 1972 (Canoe Slalom)
Pauline Goodwin, Munich 1972 & Montreal 1976 (Canoe Slalom & Sprint)
Lauren Alexandra Gray, Sochi 2014, PyeongChang 2018 (Curling)
Brian Green, Munich 1972 (Athletics, 100m, 200m & 4x100m Relay)
Angus Groom, Rio 2016 (Rowing)
Kate Grose, Seoul 1988 & Barcelona 1992 (Rowing)
Charlie Guest, Pyeongchang 2018 (Slalom Skiing)
Susan Haigh (née Williams), Mexico 1968 (Swimming)
Eric Hall, Melbourne 1956 & Rome 1960 (50km & 20km Race Walk)
Dr Clare Halsted, Munich 1972 & Montreal 1976 (Fencing)
Laurence Halsted, London 2012 & Rio 2016 (Fencing)
Jonathan Hammond, Beijing 2008 & London 2012 (Shooting)
Paul Harmsworth, Seoul 1988 (Athletics, 4 x 400m Relay)
Philip Harries, Seoul 1988 & Salt Lake City 2002 (Athletics, 400m Hurdles; Bobsleigh)
Sylvia Harris, Barcelona 1992 (Archery)
Rob Hayles, Atlanta 1996, Sydney 2000 & Athens 2004 (Cycling)
Vicki Hayles, Atlanta 1996 & Sydney 2000 (Swimming)
Natasha Haynes, Barcelona 1992 (Synchronised Swimming)
Marion Henthorn (née Saunders), Moscow 1980 (Diving)
Denise Hinton, Montreal 1976 (Athletics)
Jean Hiscock, Rome 1960 (Athletics, 200m)
Sally Hogg, Mexico 1968 (Swimming)
Caroline Holmyard, Los Angeles 1984 (Synchronised Swimming)
James Honeybone, London 2012 (Fencing)
Judy Hoole (née Samuel), Rome 1960 (Swimming)
Natasha Howard, Beijing 2008 (Rowing)
Angie Hulley, Seoul 1988 (Athletics, Marathon)
Marika Humphreys-Baranova, Salt Lake City 2002 (Ice Dance)
Dan Hunter, London 2012 (Volleyball)
David H. Jones, Rome 1960 (Athletics, 4 x 100m Relay, 100m & 200m)
Francesca Jones, London 2012 (Rhythmic Gymnastics)
Sarah Kerswell, Moscow 1980 (Swimming)
David King, Vancouver 2010 & Sochi 2014 (Figure Skating)
Paul Klenerman, Los Angeles 1984 (Fencing)
Jade Lally, Rio 2016 (Athletics, Discus)
Pete Lambert, Rio 2016 (Rowing)
Tom Lancashire, Beijing 2008 (Athletics, 1500m)
Tracy Langlands, Athens 2004 (Rowing)
Georgina Lawrie (neé Lee), Sydney 2000 & Athens 2004 (Swimming)
Jason Laslett, Barcelona 1992 & Atlanta 1996 (Field Hockey)
Geoff Laws, Moscow 1980 & Los Angeles 1984 (Weightlifting)
Zoë Lee, Rio 2016 (Rowing)
Robert Lemieux, Los Angeles 1984 (Equestrian)
Hugh Lindsay, Rome 1960 (Football)
James Lindsay-Fynn, Beijing 2008 (Rowing)
Angela Littlewood, Moscow 1980 (Athletics, Shot Put)
Sylvia Lunn (née Jackson), Mexico 1968 (Sprint Kayaking)
John MacMillan, Helsinki 1952 (Rowing)
Kate Mackenzie, Atlanta 1996 & Sydney 2000 (Rowing)
Suzanne Mackenzie (née Kirk), Barcelona 1992 (Rowing)
Ric Maden, Atlanta 1996 (Swimming)
Nathan Maguire, Rio 2016 (T53/54 4x400m Relay)
Neal Mallett, Moscow 1980 & Los Angeles 1984 (Fencing)
Malcolm Malpass, Mexico 1968 (Rowing)
Simon Mantell, Beijing 2008 & Rio 2016 (Hockey)
Savannah Marshall, London 2012 & Rio 2016 (Boxing)
Rooney Massara, Munich 1972 (Rowing)
Ian McCombie, Los Angeles 1984 & Seoul 1988 (20km Race Walk)
Don McKenzie, Seoul 1998 & Barcelona 1992 (Fencing)
Linda McMahon (née Martin), Moscow 1980, Los Angeles 1984 & Seoul 1988 (Fencing)
Kate McNicol, Los Angeles 1984 (Rowing)
James McNiven, Atlanta 1996 (Rowing)
Ian McNuff, Moscow 1980 (Rowing)
Liz McVeigh, Moscow 1980 (Rowing)
John Metcalf, Rome 1960 (Athletics, 400m Hurdles)
Marcus Mepstead, Rio 2016 (Fencing)
Ciara Michel, London 2012 (Volleyball)
Tom Mitchell, Rio 2016, (Rugby Sevens, Captain)
Willi Moore, Munich 1972 (Cycling)
Alison Mowbray, Sydney 2000 & Athens 2004 (Rowing)
Jock Mullard, Mexico 1968 (Rowing)
Mike Mumford, Los Angeles 1984 (Modern Pentathlon)
Samantha Murray, London 2012, Rio 2016 (Modern Pentathlon)
Posy Musgrave, Sochi 2014 (Cross-country Skiing)
Diana Nash (née Sutherland), Munich 1972 (Swimming)
Joy Newman, Tokyo 1964 (Diving)
Simon Nicklin, Barcelona 1992 (Hockey)
Haig Oundjian, Grenoble 1968 & Sapporo 1972 (Figure Skating)
Bryony Page, Rio 2016 (Trampoline Gymnastics)
Kate Panter, Los Angeles 1984 (Rowing)
Michael Parker, Tokyo 1964 & Mexico 1968 (Athletics, Hurdles)
Barry Parkin, Atlanta 1996 & Sydney 2000 (Sailing)
Lenny Paul, Calgary 1988, Albertville 1992, Lillehammer 1994 & Nagano 1998 (Bobsleigh)
Pauline Peel (née Bird), Montreal 1976 & Moscow 1980 (Rowing)
Adam L. Pengilly, Turin 2006 & Vancouver 2010 (Skeleton)
Spenser Pession, Lillehammer 1994 (Alpine Skiing)
Michael Pinner, Melbourne 1956 & Rome 1960 (Football)
Stewart Pitt, Atlanta 1996 (Canoe Slalom)
Guy Pooley, Barcelona 1992 & Atlanta 1996 (Rowing)
Jon Potter, Los Angeles 1984, Seoul 1988 & Barcelona 1992 (Field Hockey)
Mary Prestidge, Mexico 1968 (Gymnastics)
Gordon Rankine, Moscow 1980 (Rowing)
Ian Raspin, Barcelona 1992 & Atlanta 1996 (Canoe Slalom)
Paul Ratcliffe, Atlanta 1996 & Sydney 2000 (Canoe Slalom)
Shelagh Ratcliffe, Mexico 1968 & Munich 1972 (Swimming)
Louisa Reeve, Beijing 2008 & London 2012 (Rowing)
Gowry Retchakan, Barcelona 1992 (Athletics, 400m Hurdles)
Alexandra Rickham, London 2012 (Paralympic Sailing)
Curtis Alexander Robb, Barcelona 1992 & Atlanta 1996 (Athletics, 800m)
Ada Ruckwood, Barcelona 1992, Atlanta 1996 & Sydney 2000 (Swimming)
Janine Sandell, London 2012 (Volleyball)
Dr Alison Sanders, Sydney 2000 (Rowing)
David Austin Savage, Munich 1972 (Hockey)
Goldie Sayers, Athens 2004, Beijing 2008 & London 2012 (Athletics)
Jon Schofield, London 2012 & Rio 2016 (Sprint Kayaking)
Claire Sherred, Sarajevo 1984 (Luge)
Elizabeth Simmonds, Beijing 2008 & London 2012 (Swimming)
Trevor Simpson, Montreal 1976 (Diving)
Keith Sinclair, Mexico 1968 & Munich 1972 (Field hockey)
George Skuodas, Atlanta 1996 (Sailing)
Jill Slattery Cramer, Tokyo 1964 & Mexico 1968 (Swimming)
Julia Smart (neé Snell), Albertville 1992 (Freestyle Skiing)
Sally Smart (née Ellis), Barcelona 1992 (Athletics, Marathon)
Lauren Smith, Rio 2016 (Badminton)
Samantha Louise Smith, Barcelona 1992 (Tennis)
Rachel Smith, London 2012 (Rhythmic Gymnastics)
Nekoda Smythe-Davis, Rio 2016 (Judo)
Francesca Painter Snell, London 2012 (Water Polo)
Peter Speight, PyeongChang 2018 (Freestyle Halfpipe Skiing)
Jonathan Stanbury, Los Angeles 1984 (Fencing)
Non Stanford, Rio 2016 (Triathlon)
Hannah Starling, London 2012 (Diving, 3m Springboard)
Alix Stevenson (née Jamieson), Tokyo 1964 (Long Jump)
David Stevenson, Tokyo 1964 (Pole Vault)
Gavin Stewart, Seoul 1988 & Barcelona 1992 (Rowing)
Athole Still, Helsinki 1952 (Swimming)
Beth Storry, Beijing 2008 & London 2012 (Hockey)
Shirley Strong, Moscow 1980 & Los Angeles 1984 (Athletics)
David Philip Sturge, Montreal 1976 (Rowing)
Hugh Styles, Sydney 2000 (Sailing)
Polly Swann, Rio 2016 (Rowing)
Tony Sweeney, Tokyo 1964 (Judo)
Penny Sweet, Moscow 1980 (Rowing)
Betty Sworowski, Barcelona 1992 (10km Race Walk)
Charlotte Taylor, Rio 2016 (Rowing)
Leon Taylor, Atlanta 1996, Sydney 2000 & Athens 2004 (Diving)
Kristian Thomas, London 2012 (Gymnastics)
Vaughan Thomas, Seoul 1988 (Rowing)
Joanne Sarah Thompson, Barcelona 1992 & Atlanta 1996 (Hockey)
Victoria Thornley, London 2012 & Rio 2016 (Rowing)
Alison Thorogood, Barcelona 1992 & Atlanta 1996 (Sprint Canoeing)
Farrell Treacy, PyeongChang 2018 (Speed Skating)
Anna Turney, Vancouver 2010 & Sochi 2014 (Paralympic Alpine Skiing)
André Usborne, Sarajevo 1984 (Luge)
Richard Vaughan, Sydney 2000 & Athens 2004 (Badminton)
Annie Vernon, Beijing 2008 & London 2012 (Rowing)
Michelle Vidler (née Rogers), Atlanta 1996 & Beijing 2008 (Judo)
Lloyd Wallace, PyeongChang 2018 (Freestyle Aerial Skiing)
Gwenda Ward (née Matthews), Tokyo 1964 (Athletics, High Jump)
Barry Watson, Montreal 1976 (Marathon)
LeRoy Denver Watson, Seoul 1988 (Archery)
Helen Weeks (née Slatter), Seoul 1988, Barcelona 1992 & Atlanta 1996 (Swimming)
Richard Anthony Wheadon, Melbourne 1956 (Rowing)
Mark Whitby, Mexico 1968 (Canoeing)
Christine Whittingham (née McMeekin), Montreal 1976 (Athletics, 800m)
Andy Williams, Munich 1972 (Athletics, 4x400m Relay)
Laurie Williams, London 2012 & Rio 2016 (Wheelchair Basketball)
Rob Williams, London 2012 (Rowing)
Gaynor Willis (née Stanley), Los Angeles 1984 (Swimming)
Carolyn Wilson, Los Angeles 1984 (Synchronised Swimming)
Melanie Wilson, London 2012 & Rio 2016 (Rowing)
Martin Winbolt-Lewis, Mexico 1968 (Athletics, 400m & 4x400m Relay)
Rebecca Wing, Beijing 2008 (Artistic Gymnastics)
Freddie Woodward, Rio 2016 (Diving)
Alyson Wreford, Calgary 1988 (Luge)
Ian Wynne, Sydney 2000 & Athens 2004 (Canoe Sprint)
John Yallop, Montreal 1976 (Rowing)
Alison Young, London 2012 & Rio 2016 (Sailing)
Francesca Zino, Sydney 2000 (Rowing)
The following elite athletes also add their name in support of the letter:
Tanya Aldred, 'The Next Test' (Cricket)
Lawrence Booth, Wisden Editor (Cricket)
Rach Choong, Ten-times World Champion 2013-2019 (Para Badminton)
Mary Cohen (Commonwealth Champion), Commonwealth Games 2014  & 2018 (Fencing)
Stacey Copeland Commonwealth Champion, Commonwealth Games 2018 (Boxing)
Rick Cotgreave, England Team 1988-1995 (Lacrosse)
Tracey Edwards MBE, Captain of Maiden 1989 – the first all-female crew to sail around the world
Joel Enoch, World and European Age-Group Team, 2008 – to date (Triathlon)
Sarah Evans, Commonwealth Games 2018 (Hockey)
Holly Hill, World Championships 2017, 2018 & 2019 (Rowing)
Charlotte Hodgkins-Byrne, Under-23 World Champion 2017 & 2018, World Championships 2018 & 2019 (Rowing)
Tin-Tin Ho, Commonwealth Games 2014 & 2018 (Table Tennis)
Jenny Holl, National Champion 2018 and European Games Silver Medallist 2019 (Cycling)
Joie Leigh, GB & England International (Hockey)
Beccy Muzerie, World Championships 2017 & 2018 (Rowing)
Steve Nash, Commonwealth Games 1974 & World Championships 1975 (Swimming)
Sam Parfitt, National Collegiate Athletic Association Division 1, 2009-2021 (Tennis); CEO of The True Athlete Project
Brendan Purcell, GB Rowing Performance Director
Dan Tipney, Junior International 2001-04 (Rowing); Co-founder of Rowers Against Rubbish
Ciaran Tucker, GB Squad (Freestyle Snowboarding)
Imogen Walsh, World Champion 2011 & 2016 (Rowing)
Robin Williams, World Championships 1981-1991 (Rowing); Coach to Gold Medal crews at London 2012 & Rio 2016
Pippa Woolven, Commonwealth Games 2014 (3000m Steeplechase)
Jenna Woolven, England Hockey 2006-2012 and Ironwoman 2019
Becky Woolven, GB Event Rider (2010 to present)