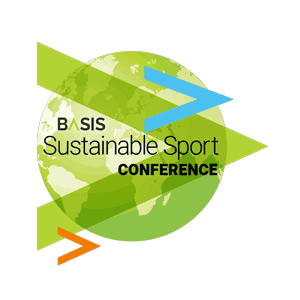 BASIS held its annual conference on 25th April at Ashton Gate Stadium in Bristol, bringing together the leading voices in sport and sustainability for a day that ignited discussions for a reimagined future.
The Conference registered over two hundred conference attendees for the first time, a sign of the growing importance of sustainability in the UK sports industry. Panel discussions, presentations and a keynote address featured a wide range of speakers from the world of sport and beyond. Topics for discussion included the relationship between sports and cities, sponsorship and reputational risk, and operational solutions to waste and packaging, while two new major initiatives were launched for the first time. Ashton Gate Stadium was a fitting venue for the day: Bristol was the first British city to be named European Green Capital, while Bristol City was ranked the Championship's most environmentally sustainable club in the 2022 EFL Sports Positive League.
The first panel drew on the experiences of its host city to discuss how sport can help cities achieve sustainability targets. Speakers emphasised how local authorities and sports clubs can support each other to improve health, community, and environmental outcomes. Peter Smith, Head of Change and Sustainability at Ashton Gate, focused on the importance of transparency and collaboration. "You will fail," he said, "but learn and share as you go."
Keynote speaker Rob Hopkins, co-founder of The Transition Network and author of From What Is to What If, followed with an impassioned and thoughtful talk that asked the audience to ignite their imaginations to build a positive future. Using examples of sustainable initiatives across the world, he argued that solutions to the climate crisis already exist—and it's up to us to use them.
The day continued with the launch of two exciting new initiatives: Etienne Stott MBE and Laura Baldwin OLY launched Sport LOCAL for Life, while the Carbon Literacy Project announced their new Sports Kit. Later, delegates heard from members of the Sport Environment and Climate Coalition, who discussed current and future actions around environmental sustainability, and Ben Dean, Director of Sport at DCMS talked about the government's approach to supporting sustainability in the sector.
Two panels expertly engaged speakers on two of the trickiest and most important topics. Speakers debated the controversial partnerships in sport and how sport can engage with stakeholders to make difficult moral and tactical decisions when it comes to sponsorship. Later, speakers from London Marathon Events, RockVolt, and BioPak explored how events can work with experts to find commercially and environmentally sustainable solutions for packaging and waste.
David Garrido, Presenter at Sky Sports, and Jonathan Overend, commentator and host of the Emergency on Planet Sport podcast, brought the day to a close with a reflection on some of the key stories in sport and sustainability over the past year. Picking up Rob Hopkins' call for imagination, they emphasised the importance of telling stories to engage audiences on climate issues.
In closing remarks, Dr. Russell Seymour reflected on the resounding message of the day: "We need to have the ability to see that things can be otherwise." The record-breaking number of delegates, lively discussions, and future-focused solutions presented at the conference were testament to the power of sport to build a sustainable future.