Steve Isaac, R&A Director of Sustainability, retired last week. We pay tribute to his contribution to golf's sustainability, the legacy he leaves, and presented him with BASIS Honourary Life Membership
By Dom Goggins, BASIS
Sustainability in sport is seen as a relatively new and growing field. It will inevitably be an entire industry before long. Its success will be to steer sport clear of the risks posed by climate change to a sustainable footing, on which it can thrive. From there, we will look back with respect and gratitude on a handful of individuals who set the tone from the start.
Steve Isaac is undoubtedly one of those people.
He retired last week after 18 years at The R&A, leading golf's efforts to get to grips with the impacts of climate change and carve out a sustainable future for The Open Championship, and the sport as a whole.
On his penultimate day, our CEO Russell Seymour joined Steve on a zoom call to present him with Honorary BASIS Life Membership. This honour can only be offered by agreement of the BASIS board to reflect the outstanding contribution of an exceptional individual or organisation to further the aims of BASIS and/or sustainability in sport in general.
Steve's contribution more that satisfies these requirements.
An Applied Biology graduate, he joined the Sports Turf Research Institute (STRI), the leading European turfgrass research and consultancy service, in 1985. After a year on the research team, he became a turfgrass agronomist, visiting around 100 golf courses a year, which included three Open Championship venues.
In 2003 Steve joined The R&A, where he has developed and implemented The R&A's sustainability program and the sustainable development initiative for The Open (GreenLinks). More recently, he has spearheaded the Golf Course 2030 programme – perhaps the deepest dive into sustainability and climate issues in any sport, anywhere.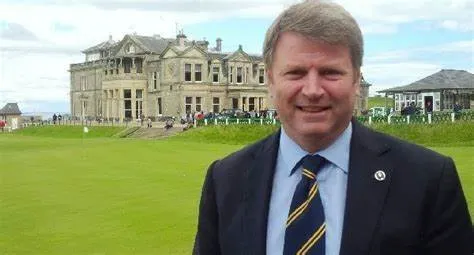 Bestowing Honourary Life Membership, Russell said: "Steve's tireless advocacy of sustainability, alongside his measured and meticulous delivery, has meant that his impact in delivering sustainability for golf has been second to none, and this has influenced sport more generally."
Similar praise came from his own colleagues.
Phil Anderton, Chief Development Officer at The R&A, told us about Steve's impact on the organisation, and golf as a whole: "He has been instrumental in raising awareness of golf's sustainability agenda across the world. His contribution to The R&A's vision of ensuring that golf is thriving in 50 years' time shouldn't be underestimated. His lasting legacy will be the Golf Course 2030 initiative which addresses the issues of climate change, resource restrictions and regulations affecting our sport in the future. His commitment, expertise and extensive knowledge will be much missed at The R&A."
For my own part, I've always admired Steve's combination of consummate professionalism and personal kindness, even in challenging circumstances. This shone through for me in 2018 when the Climate Coalition's Game Changer report, which I helped to write, made headlines across the UK's mainstream media. Most newspapers, along with the BBC, led with the long term climate risk to golf – on the same morning as a routine press conference for the R&A's Chief Executive. The timing was clearly difficult for the R&A and conflict could easily have arisen – but Steve was hugely magnanimous, focused on the big picture, clear on the importance of the debate, and confident in the approach he was spearheading for the sport. He smoothed everything over and turned it into an opportunity.
You can catch Steve in action on the Hole In One episode of the Emergency On Planet Sport podcast and his recent contribution to the parliamentary discussion on Sport, Climate Change & COP26.
On receiving his BASIS Life Membership, Steve said: "This was an extremely pleasant surprise. Can you please pass on my sincere thanks to the BASIS Board for the Life Membership. You are doing important work for the future of the sport and I am delighted to be associated with it."
Everyone involved with BASIS, and the entire sustainable sports movement, wishes Steve a long and happy retirement.
Make way on Mount Rushmore.